You don't settle with simply giving your child something good. You want more. Which is why Blevit plus cereals have it all:
Optimal nutrition
With a cereal dextrinization process that guarantees a proper digestion and nutritional gain.
Contains milk
Our milky Blevit baby cereals are made using an improved milk formula, specifically developed for infants, with no palm oil and a balanced fatty profile, for healthier babies.
Contains prebiotics (fructooligosaccharides)
that help regulate intestinal transit and maintain healthy flora.
High calcium and iron levels
Source of 13 vitamins
Improved flavor and texture!
With no added sugar
New products in the Blevit family. Discover our new Blevit baby cereals with no added sugar!
Baby food quality
Quality for your baby that you can trust
All our Blevit baby cereals follow European Baby food standards, which means controls are more exhaustive than other food products. It is based on meticulous quality and food safety controls, both of the ingredients used and in the final product.
Blevit plus Rice and Corn
Baby's first cereal
3 - 6 months
6 - 9 months
Blevit plus Rice and Corn
Baby's first cereal
3 - 6 months
6 - 9 months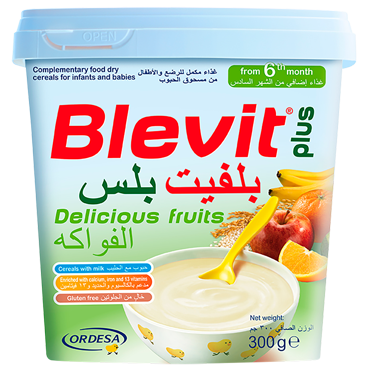 Blevit plus Delicious fruits
Introducing fruit in baby's diet
6 - 9 months
9 - 12 months
More than 1 year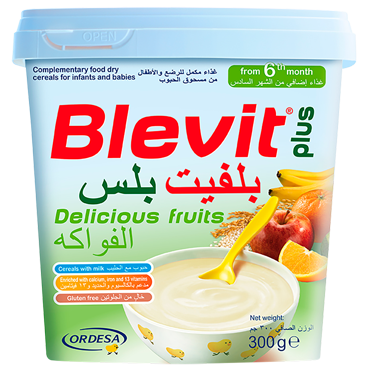 Blevit plus Delicious fruits
Introducing fruit in baby's diet
6 - 9 months
9 - 12 months
More than 1 year
Blevit 8 Cereals 0%
Cereal with no added sugar
6 - 9 months
9 - 12 months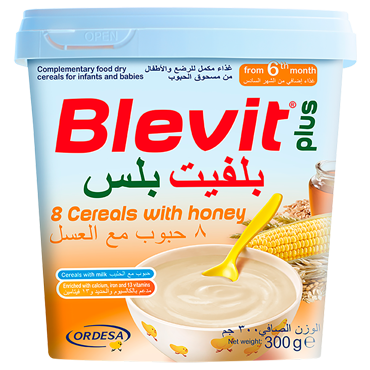 Blevit plus 8 Cereals with Honey
Plenty of cereals with all the honey flavour
6 - 9 months
9 - 12 months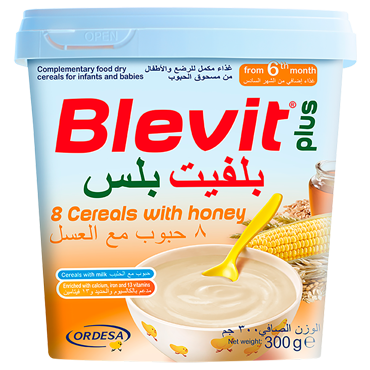 Blevit plus 8 Cereals with Honey
Plenty of cereals with all the honey flavour
6 - 9 months
9 - 12 months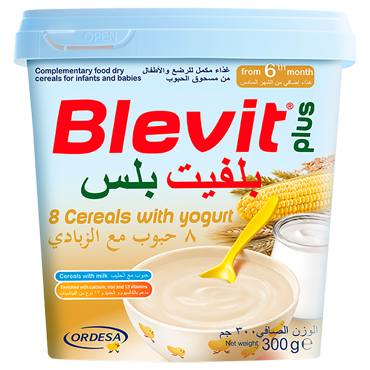 Blevit plus 8 Cereals with Yogurt
The perfect balance with lactic ferments from yogurt
6 - 9 months
9 - 12 months
Blevit to Shake 0% added sugar
Very light and soluble texture
6 - 9 months
9 - 12 months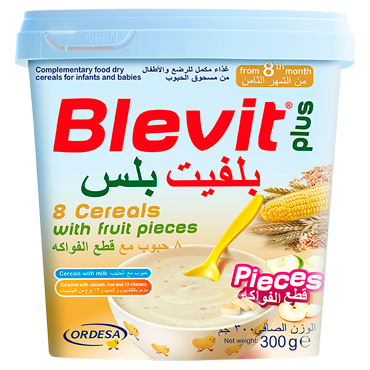 Blevit plus 8 Cereals with Fruit Pieces
Baby's first bite
9 - 12 months
More than 1 year