Is your baby ready for new tastes and textures?
Are you looking for a yummy and handy product to help him self feed?
Blevit organic baby biscuits dissolve easily in the mouth, on milk, yogurt or juice, and they are also great as finger food.
They are made from organic raw materials, cultivated without any chemical synthetic fertilisers or pesticides, and therefore there are no residues of these substances in Blevit Organic biscuits.
The European organic product certification assures the origin of the ingredients and accredits the entire production chain, from the field of cereals until the finished product.
Blevit organic biscuits are based on wheat, enriched with vitamin B1 and free from:
Pesticides and fertilizers
Artificial colourings and artificial flavours
Preservatives
Palm oil
GMO ingredients
They are carefully made in Europe following baby food grade controls.
Blevit organic baby biscuits are ideal to start your baby into solids foods, once he sits down and begins to chew, approximately around the 6th month.
This easy and nutritive snack provides babies and toddlers with energy, fiber, carbohydrates, proteins that are essential for their correct growth and development.
Perfect as finger food and particularly designed for their small hands, as a tasty way to introduce solid foods and also to help them to accept new aromas and textures.
They also help your baby in the eye to hand coordination, and in the development of the infant's jaw bones, muscles and teeth, helping him to self-feed.
They are also appropriate during the teething phase to ease your baby's discomfort
Baby food organic quality
Blevit® organic baby biscuits are manufactured in Italy in accordance with the European quality standards that apply to the category of infant products.
These standards are much stricter than for other food products and are based on thorough quality and food safety controls, both on the ingredients used and also on the final product. The raw materials used are organic, so that the result is a product with a clean label that you can trust and that your baby will love.

Blevit Organic Baby Biscuits
The natural way to start your baby into complementary feeding
6 - 9 months
9 - 12 months
More than 1 year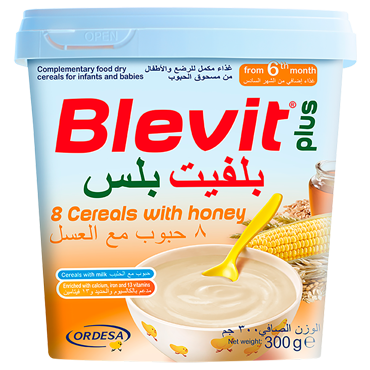 Blevit plus 8 Cereals with Honey
Plenty of cereals with all the honey flavour
6 - 9 months
9 - 12 months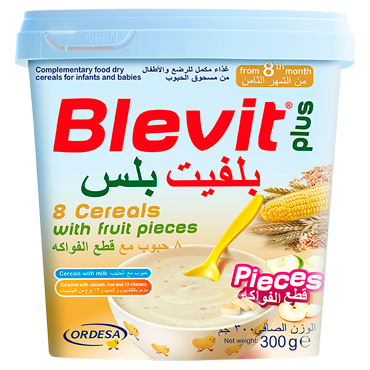 Blevit plus 8 Cereals with Fruit Pieces
Baby's first bite
9 - 12 months
More than 1 year